News
Pages:
1
2
3
4
5
6
7
8
9
10
11
12
13
14
15
16
17
18
19
20
21
22
23
24
25
26
27
28
29
30
31
32
33
34
35
36
37
38
39
40
41
42
43
44
45
46
47
48
49
50
51
52
53
54
55
56
57
58
59
60
61
Summer update - Tibia 8.5
2009-07-01 - 13:25:44
We updated everything to be compatible with Tibia 8.5

Related blackdtools forum thread:
http://www.blackdtools.com/forum/showthread.php?t=42306
Please be aware that first days after update Blackd Proxy might give problems in new zones or when using new features. Please report any bug to daniel@blackdtools.com
New antiban features
2009-06-10 - 00:40:27
We released Blackd Proxy 15.3 with some important changes. We still can't guarantee it 100% safe, however we hope that this new features will help to decrease the chances of being detected.
Check the changes here:http://www.blackdtools.com/update15300.php
Another mass ban
2009-05-06 - 20:38:14
Another mass ban, and all bots were hit in same way as we could see in a poll. It is still unknown how they are detecting that, but we will keep investigating.
This is the link to the poll (independient source) :
http://forums.tibiabot.com/showthread.php?t=124492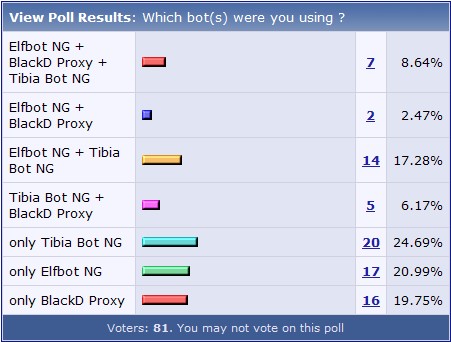 New way of purchasing gold
2009-05-02 - 15:43:20
New way of purchasing gold:
you can now buy us 100k by phone if you don't have any other way of paying it!
The price of 100k (if paying by phone) will be 20 euros or 40 euros depending the server. We know this is very expensive, but we have to pay around 50% in phone taxes so we had no other option if we wanted to offer you this payment option. Please only use it if you are unable to pay it by paypal/bank transfer.

You can try it now:https://blackdtools.com/tibiagold.php

Please note that if you use paypal or bank transfer then the price is still only 10 or 20 euros depending the server.

Update: This change caused a bug with the rest of payment options, but it is now fixed.
Tibia 8.42
2009-04-22 - 14:54:18
We updated everything for Tibia 8.42
It will just work again.

Please note that Cipsoft already stated that they are not collecting information for the purpose of detecting cheaters. In fact, after some tests we have verified that no list of running software is being sent to server when you do login.

This is the only information that Cipsoft will receive, as they stated in their news:
Software: Type of your operating system and language settings
Hardware: Your memory (RAM), processor (CPU), graphics card and video settings

This information is sent, enciphered, in the first RSA packet sent to tibia server.
Only Cipsoft server can uncipher that first packet.